After over 2 years of expensive restoration, Strawberry Hill opened to the public as a museum last month. It's a unique place with an inspiring history, and its creator (way ahead of his time in attitude, if 'vintage-inspired' in style) essentially took a designer's approach to the concept and execution of his vision. Here's a bit about it...
Strawberry Hill is a groovy Gothic Revival estate located in Twickenham, on the bank of the Thames, southwest of London. It was only a small house when purchased in 1747 by Horace Walpole. (He was only age 30 then, and his father had been Prime Minister for 20 years, so he had lots of cash...)


Portrait of Horace Walpole
Walpole decided he wanted to turn the house into what he later called his "Little Gothic Castle," which is exactly what he created:
Facade of Strawberry Hill.
Walpole was the designer of the building, but he created "The Committee of Taste" which included two close friends of his, a designer (John Chute) and an artist/ draftsman (Richard Bentley). So the creation of Strawberry Hill, like all great architectural projects, was a joint effort. Walpole worked on the place for almost 50 years, expanding and improving it, starting at 5 acres and ending at 46 by the time he died.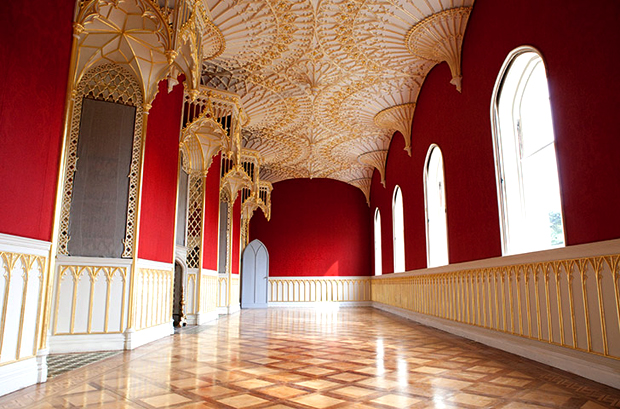 The Long Gallery, Restored. Photo by Andrew Urwin
Strawberry Hill embodies Walpole's Gothic vision through and through. It incorporates characteristic Gothic features like pointed arch doorways and windows, gothic tracery on windows and tracery-styled molding used throughout the interior on everything from the stair rail to built in bookshelves and ceiling detailing. The home features vaulted ceilings, stained glass windows, Gothic furniture, and even gargoyles! Walpole was an avid fan of art, and built an extensive collection of furniture, rare books and manuscripts, silverware, sculpture, portraits, and prints. (Sadly, and very famously, after Walpole's death, the building fell into the hands of an Earl in debt, and he sold off almost everything in the collection over the course of 32 days in 1842. The collection is still in the process of being recovered.)
The Gallery, via London Historian's Blog.
I admire so many things about Strawberry Hill--first of all, the fact that it was a whimsical architectural fantasy that Walpole dreamed up and fulfilled for sheer pleasure. Secondly, the thoroughness with which he stuck to his concept really shows down to the details. The library and gallery are particularly spectacular, with their ornate ceilings, art collections, and Gothic styling. This house is known for having directly sparked the 19th century Gothic Revival in architecture and literature. What a feat of design and creativity! If I were designing my estate, Gothic Revival might not be my first concept choice, but Walpole's castle is nothing short of impressive!
The staircase and hallway, midway through restoration.
Photo by Linda Nylind
Fireplace detail
(Ok, I'll say what we all already know: craftsmanship like this just doesn't exist anymore!)
Photo by Linda Nylind.
Sure would make a nice study, music room, or bedroom!
Photo by Andrew Urwin
Stunning stained-glass gothic windows, and amazingly detailed ceiling work!
Photo by Linda Nylind
Below is a romantic vision of Strawberry Hill, a painting I really enjoy, particularly because of the quality of light it captures. I love the glimpse of the Thames rounding the bend:
Below are two examples of English interiors inspired by Walpole's unique take on Gothic:
Shobdon Church in Herefordshire, inspired by "Strawberry Hill Gothic." Image via Cotswolds.info
The gallery at Bishopthorpe Palace south of York, England.
Happy Friday!